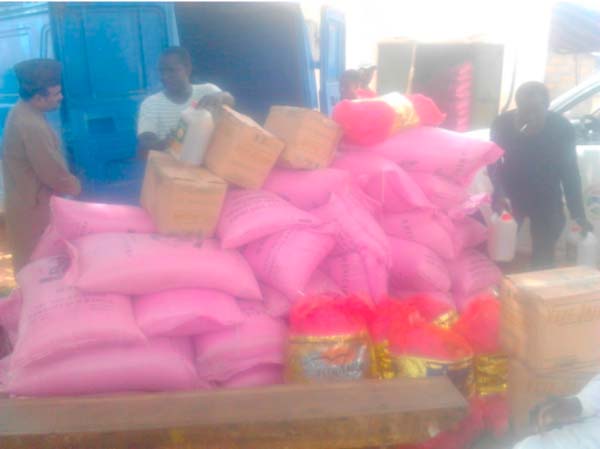 The Ahmadiyya Muslim Jama'at on Sunday distributed rice, oil, onion and cash worth over D100,000 to 38 disaster affected families in Salikene in the North Bank Region.
The support was part of the Jamaat's humanitarian efforts to affected families hard hit by windstorm and flashflood. The presentation was held in Salikene in the North Bank Region.
Presenting food items on behalf of the Jama'at, Oustass Hifazat Ahmad Naved, Area Missionary in Farafenni, noted that the response was part of the Jamaat's annual support to Muslims.
He said the humanitarian gesture is line with the teaching of the Sunnah and Quran to alleviate burdens of disaster affected families.
Deputy Governor Mustapha Saidy thanked Ahmadiyya Muslim Jamaat for complementing government efforts at providing humanitarian aid to 38 disaster families.
The Deputy Governor called on citizens of Salikene to be proactive in mobilizing resources and materials to enhance humanitarian response by Village Disaster Management Committees.
He used the occasion to call on people to desist from settling on waterways and to always erect correct foundation through seeking advice from the physical planning department before construction.
Momodou B.K. Ceesay, Regional Disaster Management Coordinator for NBR, underscored the National Disaster Management Agency's resolve at working with villages, districts and the Regional Disaster Management Committee in building community resilience to disasters as enshrined in the NDMA act.
He lauded the Jama'at for the timely intervention and used the opportunity to solicit support from the Jamaat to expand its humanitarian aid to the 323 displaced families in the region.
The disaster coordinator called on institutions and philanthropists to emulate Ahmadiyya Jamaat.
Alh. Sainey Kanteh, alkalo of Salikene, applauded the Jamaat for the timely intervention to the affected families.
He thanked the village disaster management committee for their support in the assessment of affected families.
Momodou Ceesay and Aja Mansa Suso delivered the vote of thanks on behalf of the beneficiaries.
The presentation was attended by a cross section of the communities and some members of the Regional Disaster Management Committee.
Read Other Articles In Article (Archive)