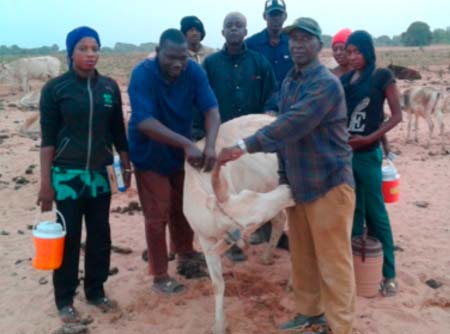 The acting Livestock Director for North Bank Region (NBR) has underscored the importance his department attaches to animal production and providing quality treatment to enhance sustainable breeding and income.
Momodou Darboe was speaking to reporters in Kerewan on Monday to gauge the progress and challenges confronting the two-month-old CBPP trans-boundary cattle disease.
He disclosed that 48,000 cattle were vaccinated against CBPP in one month in the six districts of North Bank Region.
Darboe hailed cattle farmers and district authorities for their support and cooperation. He renewed calls for full coverage of the campaign to ensure that the region is free from any suspected case of CBPP.
He reiterated their commitment to collecting suspected blood samples for further analysis at Abuko Central Laboratory, with a view to addressing the concerns of farmers.
He thanked NEMA project and government for their invaluable support to the two-month vaccination campaign, noting that it would contribute to food production and enhance quality milk and meat production.
Momodou B. Keita, senior livestock assistant, in his remarks, expressed satisfaction on the level of cooperation among herders and shepherds throughout the campaign.
He said to vaccinate animals against any possible outbreak of disease is paramount to the department of Livestock Services.
He urged farmers to always link along with veterinary staff for routine vaccination of small ruminants and cattle to enhance growth and production.
Awa S. Bah, livestock assistant, thanked the women cattle farmers for their steadfastness in food diversification and poverty reduction.
She said women involvement in cattle rearing would contribute immensely to strengthening their capacity and becoming self-reliant.
She emphasised the need for all stakeholders in the livestock sub-sector to ensure all cattle are vaccinated against cattle disease.
Sulayman Jallow, a herder in Kerewan, said the campaign was very important as it would promote the health of cattle, and contribute to the attainment of quality meat and milk.
He called on cattle herders and shepherds to be vigilant to ensure all their animals are vaccinated against the disease. 
Read Other Articles In Article (Archive)