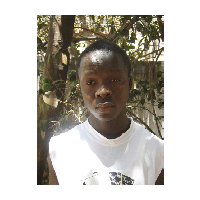 One Bakary Yassin Jallow, a 15 year old boy of 33 Old Primet Street in Banjul is urgently in need of medical assistance for his eyes.
According to Bakary, who walked into the Point Office yesterday Wednesday 22nd April 2009, he has been suffering from eye problem to the extent of leaving school as his vision was his major problem. He called on the public to support and help him undergo treatment abroad for him to be able to gain his sight again and continue his schooling.
"My parents and family cannot afford my medical expenses abroad. I am appealing to the general public, government, NGO's, and individual philanthropists to help support my treatment so that I can go back to school," Bakary earnestly appealed.
According to the medical report from Sheikh Zayed Regional eye care Center Bakary Yasin Jallow a boy aged 15, with hospital number 0010404 was presented in their clinic on 22nd September 2008 with the history of poor vision since childhood, examination showed frontal skull bossing, vision RE is PL, LE is 1160 aided and we aided. Both eyes are quite and microphtalmic. He had a systemic/neurological assessment by a pediatrician and no developmental abnormality was found.
Read Other Articles In Article (Archive)