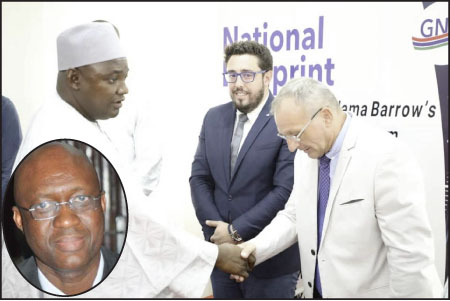 Semlex, a Belgian company that has been contracted by The Gambia government to issue national identity cards has been temporarily closed down by The Gambia Revenue Authority (GRA) for tax evasion despite government's tax exemption.

The crime contravenes section 215 of the Income and Value Added Tax Act, according to GRA officials. The company was shut down in early hours of Monday.
The temporal closure of Semlex will last for a period of three weeks as prescribed by tax laws in The Gambia. During this period, the company is expected to discuss how to regularise its status with the GRA.
A person familiar with the matter at Semlex Company who wished to remain anonymous told The Point that part of the contract Semlex has with the government spells out that the company is exempted from paying taxes.
Our source said: "Part of our contract is that the government shall issue Semlex with a Special Investment Certificate (SIC). The government shall not deduct any withholding tax at source on the transfer out of the Republic of The Gambia of any income deriving from the execution of the project."
Our source further added that on the contract, clause 7.4. indicates that "Semlex shall be exempted from paying any custom duties for taxes on equipment, machinery accessories, materials or supplies (including motor vehicles) imported temporarily or permanently into the Republic of The Gambia for purposes related to the design, building, maintenance and operation of the infrastructure and the project."
It further indicated in clause 7.5. that to facilitate such imported during the contract period, "list of exempted inputs shall be submitted by Semlex for approval by the Ministry of Finance.
At a Monday press briefing at GRA, Commissioner General Yankuba Darboe told journalists that they have been consulting and engaging Semlex management many times to pay their taxes but to no avail. "In fact they don't even attempt to suggest for payment plan," he claimed, adding since GRA is mandated by government to collect taxes, Semlex must pay their taxes.
The GRA boss dismissed claims that Semlex has a Special Investment Certificate (SIC) – a certificate that exempts a company from not paying tax.
He thus argued that if that was really case, they would have tendered it before the company was closed.
He noted it is not GRA's wish to close down companies, but adds that companies have to also understand and must fulfill their tax obligation. He said GRA does embark on lot of engagements and consultations before closing down any company.
He added that currently negotiations are on -going and if there is any improvement or arrangement the public would be informed.
Read Other Articles In Article (Archive)